Recently on PS Disasters, we discussed terrible cut & paste jobs, a break in the chest-face continuum, and the usual anatomical impossibilities.  We also spotted something disastrous with this guy's arm.  It was a busy week.  Let's see what else has been happening in the world of Photoshop.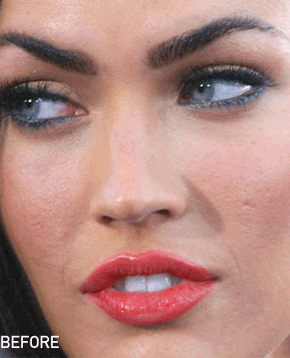 10 Animated Gifs of Celebs Before and After Photoshop. [Smosh]
"Some of the code seemed unnecessary.  Now, why isn't my site working?"  [Clients From Hell]
Fans of the British and Irish Lions spotted a badly-Photoshopped team photo, so they decided to have some fun with the images.  [Wales Online UK]
"Monster" Modern Renaissance creations.  [Worth 1000]
Paul Hansen denies that his World Press Photo of the Year 2013 was faked with Photoshop. [HuffPost UK]
10 Worst Celebrity Photoshop Disasters Ever. [About Web Humor]
Chinese Photoshop trolls are funnier than American PS trolls.  [BuzzFeed]
Those Kardashian Kollection ads take Photoshop to new levels (of awful).  [The Gloss]
Happy Memorial Day weekend to all of our U.S. readers!  Thanks for reading, and we'll see you back here on Monday with more disasters.  Be sure to join us on Facebook, Twitter, and Google+ for daily fun and entertainment.